Back Home
Fall Color is Coming Fast!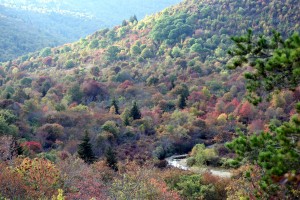 The leaves have begun changing color and dropping off the trees here in the mountains.  I was asked to map a route that I thought would provide some extraordinary leave viewing for Fall colors.  So, here goes:
From Downtown Waynesville, head south on highway 276.  After going over Waynesville Mountain, you will come into a valley with a community called Bethel.  Look for highway 215 to the right.  This road will be a pleasant drive through the valley, then by Lake Logan and on up through a fairly tight gorge following a fork of the Pigeon River.  At one point you will cross a small stone bridge over a beautiful cascading stream.  Be sure to stop and take a picture of the cascade, or as some would call it the waterfall.   Continue up 215 to the Blue Ridge Parkway.  Take the Parkway north toward Asheville.  You will pass the parking area for Devil's Courthouse on the right.  If you are up for a short uphill hike, stop and walk up to the top along the well-marked trail to the rock cliff called Devil's Courthouse.  You will find some exceptional views at the top.  Also, listen for the sharp calls of the Peregrine Falcons, often seen sailing on the air currents below the cliff.  Just past the parking area for Devil's Courthouse you will drive through Courthouse Tunnel.  Past the tunnel you will see some high cliffs to your left, and beautiful views toward Pilot Mountain and Brevard to your right.  At milepost 420, there is a paved forest service road to the left.  Stop at one of the parking places on the right and take in the views of Graveyard Fields below.  (There are several stories about the origin of this name.  One is that after a huge forest fire in the 1920's, many gray Chestnut stumps occupied the little valley and surrounding hills, looking like tombstones.)   There are several waterfalls in the fields from the Yellowstone Prong of the Pigeon River.  Many hiking trails begin from this forest service road.  One trail at the end of the road goes up to Big Sam Mountain.  Big Sam is one of the higher peaks in the area with great views from the top.  Once back on the parkway you will see the parking area for Graveyard Fields on your left.  Usually this is a very congested area with hikers.  Just past Graveyard Fields keep looking to the left for the next mile or two for unusually brilliant colors in this area.  Continue down the parkway to Wagon Road Gap.  Here you can exit the parkway and take highway 276 back toward Waynesville.
This loop is one of my favorite rides for Fall color in Western North Carolina.  Come see it for yourself!