Blog
Instead of our normal real estate blog this week, we wanted to take this opportunity to wish a very "Happy Thanksgiving!" to all our friends and clients.  We had one of our best years ever, and that would not have been possible without your support and referrals.  As Realtors we live or die by our reputations.  Many of our sales come from previous clients and friends as referrals.  There is no better way to thank a Realtor for his or her service than a referral to one of your friends or neighbors.  When we get a referral, we truly feel honored.
As we sit around the dinner table next Thursday having dinner with our friends and family, we will be thinking of you all and wishing you a very "Happy Thanksgiving."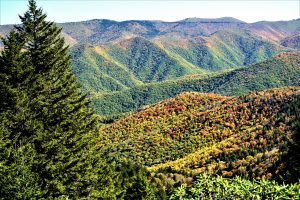 The above photo was taken on the Blue Ridge Parkway on Sunday, October 18th.  Colors were brilliant in this cove below the parkway, but many areas were still green while others were past the peak, or completely gone.  In other words, I had to search for good colors.  Now, the colors are still fairly good here in Maggie Valley at the lower altitudes.  However, it is extremely windy today, with a cool front coming in.  We are expecting about 1 inch of rain total from this afternoon through tomorrow morning.  I am sure this weather will blow a lot of leaves off the trees.  All in all, this has been a peculiar year for leaf color.  We had lots of rain this year. (We have a surplus of 24 inches of rain this year compared to normal rainfall.)  Then we had extremely warm weather in October, actually the warmest October weather on record.  It seems that the excess of rain, combined with a warm October gave us a leaf color show that was about 10 days later than normal.
Here at the office we gave out lots of candy to the little trick 'r treaters last evening.  Many businesses here in Maggie Valley decorated for Halloween and gave out candy.  In downtown Waynesville the town blocked off Main Street and had a Halloween block party.  Loads of little ones dressed in costume, as well as some adults.  If you get up this way often, you will find that we look for excuses to celebrate every holiday.  If there is no holiday, we make up one, or just have a craft show.  Come on up, we'll leave the open sign on for you.
In previous posts I had guessed that we would be around full Fall color around the 20th of October.  Well…. I was wrong.  I don't know if it has been the extremely warm Fall we have had so far (mid to high 80's the first week of October), but the leaves seem to be hanging in there as green for the most part.  This may be the latest Fall color I have ever seen.  I am looking out the window of the office right now, and all I see on the mountains across the way are green leaves.  It would appear now that full color here in Maggie Valley will be delayed to late October, if not early November.
We took a brief ride on the Blue Ridge Parkway.  There is some color at the highest elevations, but not much yet.  So, come on up to Maggie Valley later this month to get that Fall feeling in your bones.  The weatherman said we are going to have one morning this week with temps dropping into the 30's, and next Sunday, the 21st, he is predicting a high in the 50's for Asheville.  Hopefully with those cooler temps the leaves will get on the program and start changing!
Here in Haywood County, according to the best information I can glean, home sales prices remain very strong.  Our average sales price (comparing August 2017 with August 2018) has increased 12.7 percent.  This brings the average price of all homes sold through our multiple listing service in Haywood County to $216,328, up from $191,890 a year ago.  In September 2018 the number of homes sold actually dropped from 116 in September 2017 to 92 in September 2018.  This decrease was not due to fewer buyers, but to a tightening inventory of homes for sale.  This is a particular problem in the lower price ranges, up to $300,000.  In some lower price ranges, buyers are finding it a challenge to find the home they want due to a shrinking inventory of homes for sale.
Tomorrow, we are beginning October.  Traditionally we have a fairly large influx of buyers in October and early November, due to vacationers coming to these gorgeous mountains to see the leaves change color.  This influx of buyers will undoubtedly cause our inventory of available homes for sale to shrink again.  Also, the price of homes should continue to rise, particularly in the lower price ranges.
We have had an abundance of rain this year and there are lots of leaves on the trees.  Hopefully this will be another gorgeous year for leaf looking.  Come on up to the mountains and enjoy nature's leaf show this October.  The leaves will begin changing color in early October at the highest elevations, with color descending the mountains into the valleys around October 20th to the 25th.  Keep in mind the leaf predictions are my opinions based on past year observations.  (My predictions are deemed reliable, but not guaranteed.)
Although Hurricane Florence did an untold amount of damage in Eastern North Carolina, and in Coastal South Carolina, we missed the brunt of the storm here in the Central Mountains of North Carolina.  At my home we had about 3.5 inches of steady rain from very early Sunday morning through Sunday evening.  Although winds were forecast to be about 30 mph here, we had almost no wind.  I am very thankful for being spared from this storm,  but feeling much sorrow for those down east who lost their homes, and in some cases their lives to the storm.  As flood waters continue to rise from river flooding,  many residents face a lot of demolition and rebuilding of their homes.  Thank goodness for the National Flood Insurance program.  I certainly hope that all homeowners who lost homes to the flood waters had this insurance in effect, although I know that many did not.  The National Flood Insurance Program provides affordable insurance to property owners, renters, and businesses.  They also encourage communities to adopt and enforce floodplain management regulations.  These efforts mitigate the effects of flooding on new and improved structures.  Many homeowners don't realize that their homeowners insurance does not cover flood damage.  The only way to cover flood damage is through the National Flood Insurance Program.
Wherever you are, I hope that you make it safely through this hurricane season and you and your families remain "high and dry".
Recently I have had more than one buyer of a property tell me " I saw those pictures on the listing and I just fell in love."  It's very common for home buyers to express this emotion.  Most buyers are not very logical when making a home buying decision.  In fact, they tend to be very emotional.  As one buyer expressed it "This house just sang to me!"
Most buyers today shop for their homes on the internet.   Many buyers have narrowed the search to two or three homes before they contact a Realtor to set up showings.  So based on most buyers looking at the internet to begin their home search, what is the most important marketing tool for a seller when marketing their home?  Pictures of course!  If pictures look dark and dreary, your home looks dark and dreary to a prospective buyer.  Our MLS now permits up to 36 pictures with each listing, and a virtual tour also.  Here at Mountain Dreams Realty, we do professional photos on every listing, and virtual tours on most listings.  Our photographer uses state of the art cameras and wide-angle lenses to make each room of your home look its absolute best.  Our virtual tours are downloaded to Realtor.com and other sites so prospective buyers can see photos in full-screen width, as opposed to small photos.  Our listing photos are distributed by our MLS to over 900 real estate websites, giving your home the widest possible exposure to buyers.
So, you decide.  If one picture is worth a thousand words, how much are 36 pictures and a virtual tour worth in the age of internet shopping?
Occasionally clients ask me "Why do you love this area so much?"  First of all, I think these mountains are in my soul.  My mother and father were born in the mountains of Virginia, along the New River, just across the NC line, as were many generations of my family before.  I enjoy hiking, observing nature, fly fishing, photography and riding on the Blue Ridge Parkway.  I also like to eat.  Asheville has many wonderful restaurants, with almost all ethnic varieties represented.  Asheville also has over 40 regional and national breweries that offer an endless variety of beers.  Asheville has been named "Beer City USA".  Asheville also has a shortage of homes in the area, and home prices have risen considerably.  Living in Haywood County provides lower home prices than Asheville, and less taxes than Asheville, while still being close enough to Asheville to enjoy what Asheville offers.  My wife and I went to a Lyle Lovett concert under the stars at Biltmore House just last weekend.
Enough of my rambling.  Here in Haywood County we have 4 roads that access the Blue Ridge Parkway.  We have 2 National Wilderness Areas (Shining Rock and Middle Prong).  We have Pisgah National Forest and the Smoky Mountains National Park.  In winter we have the Cataloochee Ski Area.  We are only a short, beautiful drive from Asheville, or from Harrah's Casino in Cherokee.  Waynesville is a very vibrant and active small town with numerous restaurants and craft breweries.  We have an award-winning regional theater, the Haywood Arts Regional Theater (HART).  Haywood County also has four 18 hole golf courses, and one 27 hole golf course.
I could keep going on about why I love this area.   Come on up and see for yourself!
Danny
Home sales in Waynesville, Maggie Valley, and all of Haywood County continue to be strong.  However, inventories are getting thin in the lower price ranges.  We really need more listings in the $100,000 to $300,000 range.  If you are considering listing your home for sale, now is a great time.  Very often October is one of our stronger months for sales as visitors come to see the leaves changing.  We have had a lot of rain this year so the annual leaf show should be very good.  (No guarantees, the prediction for the leaf show is strictly my forecast!)
If you are looking to buy a home, we are very eager to help you through the process.  Our philosophy is simple.  We want to make the process extremely transparent and easy for buyers.  Remember, the seller pays all the commissions, so our service to you is totally paid by the seller.  We do not charge a retainer fee as some agencies do.  The only issue we are experiencing with our buyer clients is timing.  If you find the house you want— don't wait! Make that offer as quickly as possible.  I can't tell you how many times I have found that perfect home for a buyer client, but the home went under contract to another buyer while my buyer client was making up their mind about an offer.  Remember the old saying "If you snooze– you loose!"  That saying really rings true in this market.
Let us know if we can help you get your home on the market.  We can do a market analysis to help you find the correct price to market your home.  This is a free service to you.  If you are looking for a home in the mountains to purchase, let us help you find that perfect home or cabin.  We will be here waiting to serve you.
I looked at few numbers today in our Multiple Listings Service (MLS).  Our inventory of homes for sale in Haywood County in the 0- $400,000 range is down to 345 homes.  There were 84 homes sold in the past month in this price range.  That means we now have only a 4.1 months supply of homes.   Just a little over 3 years ago we had over a 36 month supply homes in the 0 to $400,000 price range.  That equates to almost 9 times the supply we now have on the market.  We have definitely gone from a buyer's market to a seller's market.
In the 0- $300,000 range, our supply is even lower with only a 3 month supply of homes for sale.  (245 homes on the market with 81 sold in the last 31 days)
As the price range gets lower, the numbers shrink again.  In the 0-$200,00 price range, we have only 107 homes on the market and have sold 41 in the last 31 days.  That equates to a 2.6 month supply of homes in this price range.
If you have a home here, and have considered selling, now is a GREAT TIME TO SELL!  Give us a call and we will do a market analysis on your home to see how much your home is worth in this current seller's market.
If you are a buyer, and are looking for a home here, let us know.  We can create a custom "Portal" for you within our MLS.  As new homes come on the market matching your search criteria, you will receive an email link to the MLS information on those homes.  As a buyer in a seller's market, acting swiftly when you see that "perfect home" is very important, as listings can come on the market today, and be sold tomorrow.
It has certainly been a bit on the warm side, both weather-wise and business-wise here in Maggie Valley.  Visitor counts are definitely up, as the plank sidewalk in front of our office seems to have a continual flow of shoppers.  It has been extremely warm in other areas of the state and in South Carolina, Georgia and Florida.  I would surmise that many of our visitors are escaping the extreme heat at home.
If you didn't already know, Ghost Town in the Sky amusement park and Village has been under contract for a few months now.  It seems a group of investors are acquiring the property with plans to reopen Ghost Town.  This has been good news for Maggie Valley, as everyone here is convinced the reopening of Ghost Town will bring more visitors and tourists to the area, reminiscent of the "olden days".
As I have indicated in previous posts, inventories of homes for sale have come down considerably, moving the market from a buyers' market to a sellers' market.  Anytime inventories get tight, the old law of supply and demand seems to raise prices, and prices have definitely increased.
I hope you all had a wonderful 4th of July.  There were several fireworks shows here to celebrate the 4th, and the weather last evening was perfect for enjoying the fireworks.  If you haven't been here for a while, come on up, and stop in to say "Hello" while you're here.